Kansas Cookbooks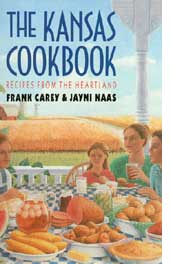 In The Kansas Cookbook, Frank Carey and Jayni Naas Carey present 400-plus delicious recipes that reflect Kansas history, its ethnic diversity, and its agriculture.
The cookbook recipes include such tasty delights as morel mushroom turnovers, "cure-all" chicken soup, sirloin steak with midwest marinade, shepherd pie, Lou Belle's best-ever meat loaf, country-style ribs with barbecue sauce, Czech sausage, Parson's pan-fried chicken, fried pheasant, catfish grilled in corn husks, Drukla noodles, Bohne berogge, farmer's corn casserole, candied sweet potatoes, squash cobbler, German baked beans, sweet and sour cabbage slaw, black bean salad, Sunflower State wheat bread, oatmeal spice muffins, whole wheat buttermilk biscuits, apple butter, dandelion jelly, jalapeno pepper relish, pioneer apple pie, black walnut pie, Mennonite wedding cake, persimmon pudding, kolaches, Swedish ginger cookies--and much more!
Many of the recipes have been contributed by more than 150 cooks from around the state. Others are Carey and Naas's innovative adaptations of historic recipes or new food creations that make use of indigenous ingredients. All have been tested--and tasted. The food and recipes are simple, honest fare: no glitz, no razzle-dazzle, just good taste.
Each recipe is accompanied by an historical note, a personal comment or reminiscence from its contributor. The Kansas Cookbook is illustrated with nearly 100 line drawings by artist Robin M. Nance.
[Site author note: Frank Carey started cooking in 1971, during our student days at the University of Kansas. His first cookbook: Julia Child's Mastering the Art of French Cooking. Frank and Jayni are both great cooks -- also, my Grandmother Laughead's plum cake recipe is in The Kansas Cookbook.]

Rolling Prairie Cookbook: Over 130 Recipes Celebrating Fresh Produce, by Nancy O'Connor, Lawrence, KS The Perry Home Cook Book A Carefully Compiled Book of Tested and Approved Recipes, By the Ladies of Perry, KS, 1920 KanColl
---
Kansas Recipes
The Mueller-Schmidt House Museum kitchen, built in 1881, Dodge City, KS.

Old Time Recipes from Kansas
Featured Kansas Recipe Websites
Jayni's Kitchen from 6 Productions, Lawrence, KS Jayni Naas Carey's cooking show on cable TV -- over 200 episodes have been taped.
Kansas Hamburgers
---
Restaurant Guides
Kansas Explorers Club A great group to join for the best information on Kansas and tested things to do and eat. Looks for the small, unique and special Kansas places.
The Kansas Guidebook for explorers, by Marci Penner. A tour of every organized city in the state, with 672 restaurants, cafes and soda fountains listed -- all privately operated. From the Kansas Sampler and Kansas Explorers Club organizers. 432-page book with 400+ color photos and 3,597 entries.
Kansas Food Products