---
---
Contributors and Volunteers
Here are some of the people who are now working on the BWAKA language project, or have contributed to it in the past, in no special order:
Tom Ford lives in Somerville, Massachusetts and works at Houghton Library at Harvard University. A writer, he is currently working on a book about Baw Beese, a Potawatomi man who lived in Hillsdale, Michigan in the first half of the nineteenth century. Tom's roots are in Hillsdale; his family and Baw Beese were friends. Tom has done a lot of research for us; he found much of the material in our history section.
Gary Mitchell has been a generous contributor to our website. He lives on the reservation, and serves the tribe as Prairie Band historian and member of the tribal council. He originally provided us with the Potawatomi chronology and, in 1997, permitted us to add his new book, STORIES OF THE POTAWATOMI PEOPLE, to the website.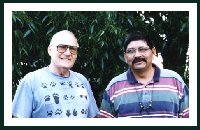 Jack and Gary at the Gathering, Shawnee, OK, Summer, 1997
Jack Wooldridge a Citizen Band Potawatomi living in California, writes and publishes children's books, including several based in Potawatomi culture. He contributed some of his art work for display in our art section and has been a wise and prompt adviser on matters cultural, artistic, and technical. He has a web site you might like to visit.
Susan Campbell is a former NW area representative of the Citizen Potawatomi Nation who lives in Seattle, WA. Susan helped develop our Lykins material and did the data entry of much of our historical material. She developed and is maintaining our genealogy pages. She permitted us to use one of her wonderful poems and some of her family's beadwork on the website. She began a Potawatomi language class in November, 1996, at the Kitsap County Indian Center (Silverdale, WA), with the help of Bill Moore, a Potawatomi elder; it has been meeting for more than a year. Susan and I have been discussing how one would set up a remote language classroom; hopefully our materials will prove useful in that endeavor.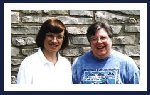 Susan (right) and Seanne in West Lafayette, Summer, 1997
Seanne Heffernan, a housewife in Indiana who is interested in learning Potawatomi, contributes clerical assistance and html coding.
Peggy Kinder, Citizen Band Potawatomi who lives in Kansas City, Missouri--Peggy was a student in Jim McKinney's Potawatomi language classes for a year and a half. With Jim's help she created class notes and audio tapes that are an important resource for many of us. She is married to Steve, who is Peoria, and has fine twin sons named Willie and Joe (you should hear them sing--southern or northern, either one). As one of the Potawatomi speakers in the project, Peggy will be an important contributor in the production of multimedia pedagogical tools.
Don Perrot, a member of the Prairie Band who teaches Potawatomi in the Hannahville schools and is a leader in language preservation efforts among the northern bands, has encouraged us with his interest, brightened our days with the humor in his maillist messages, and been an invaluable resource when language questions arise.
Joel Young, a Prairie Band Potawatomi who lives in Edgewater, Maryland, graduated from high school in June, '97, with impressive honors, and began his college career at Carnegie Mellon in September. He has been a source of wonderful ideas and is responsible for the new standards we have set for the web pages. Thanks, Joel!
To Leonard McKinney, Joe Lewis, Lorenzo Mattawaoshe, Luetta Jessepe, Meeksokwe', Sarah Patterson, Jane Puckee and all the nake'ndumwajek whose help with our initial language collection project made our subsequent work possible, our everlasting thanks. Some of the Potawatomi elders and speakers who contributed to the project can be seen at this location.
Our thanks to Lynn Nelson, Steve Chinn, and the Kansas Heritage Server; we are delighted with our new home. Migwe'c, as well, to Victoria Foth and the Kansas Humanities Council who got us started with our first videotaping project in 1995.
Ephraim Alexander, a graduate student in History of Technology at Iowa State University--Ephraim has been involved in the project since the summer of '95, when he traveled down to Kansas to help with the KHC Heritage Grant data collection process. Ephraim did some data entry on the Martha folder, which is now a main part of our word list.
John Murphy, Iowa State student--working on a masters in anthropology. He was in Smokey's summer (1997) American Indian Studies 210 (Introduction) class. He works in a computer lab on the Iowa State campus and is familiar with html. John gets a lot of credit for the frames dictionary being on line.
Rob Malouf, a graduate student in linguistics at Stanford University, CA--Rob worked with the Potawatomi language before becoming involved with BWAKA, which he found on the WWW as soon as we got there in fall of '96. Rob has computer programming and html-writing experience, which has made a world of difference in our work. Rob visited us for a week in Kansas and helped us produce the major text that has become our dictionary. You can meet Rob at his own homepage at http://hpsg.stanford.edu/rob/. P>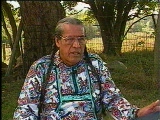 Jim McKinney during his Sunflower Journeys interview
Jim McKinney, a Prairie Band Potawatomi who lives in Holton, Kansas--Jim is the mIsho

(grandfather) of the project and the mainstay of the BWAKA organization. He retired from his ministry in the United Methodist Church in June, 1997. Since then he has devoted himself to revitalizing the Potawatomi language. He co-taught an Iowa State class on Potawatomi language and culture in Autumn, 1997. Jim is one of the nake'ndumwajek ("those who know" the language) in our project, having been raised on the reservation, in a large household where both Potawatomi and English was spoken. Four of Jim's and Agnes' five children are involved in the BWAKA project (listed below).
Darlene Young, a Prairie Band Potawatomi who lives in Edgewater, Maryland--among her many contributions, we count her son Joel, listed above.
Leah Douglas, a Prairie Band Potawatomi who lives in Columbia, Missouri. On a recent visit to Iowa, Leah had pity on Smokey and volunteered to help dig him out of the mess he's gotten himself into--she is organizing files and will be "writing" the BWAKA story, if she can ever sort out Smokey's filing system.
Rebekah McKinney, a Prairie Band Potawatomi who lives in Blue Springs, Missouri--Becky has agreed to serve as treasurer of the BWAKA organization. She doesn't know what she's getting into.
And I'm Jim's middle child and only son, Smokey McKinney, a Prairie Band Potawatomi, living in Lawrence, Kansas. Until recently, I was a graduate student at Iowa State University; now I am associated with Haskell Indian Nations University. I've been married nineteen wonderful years to Kristy, and we have three kids, Megan, Lindsay, and Taylor. I'm the one responsible for insisting on using technology and the world wide web in the project, so if you see anything amiss, blame it on me.
And that's not all... My thanks to Brandi, Linda and so many other friends and students who have helped in the past. Pete (Nugmuk), Janae, Fritz, and others have expressed an interest in the project and have volunteered to do some work. Many more have contacted us through e-mail. A Potawatomi MAILLIST has been started, an e-mail conversation between those interested in the project and in the use of multimedia and the WWW to teach native languages. If you're interested in helping with the project or subscribing to the maillist, send us mail!

---
---
We are glad to receive your questions and comments.
Text and graphics copyright © Smokey McKinney 1997
---
Return to Kansas Heritage index